Learn About Our COVID-19 Protocols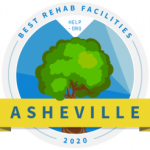 The Center
FOCUSED ON SAVING LIVES BY GUIDING PEOPLE TOWARDS THEIR PURPOSE IN LIFE.
THE CENTER
Situated in the heart of Asheville, North Carolina, The Center is where much of the Oasis magic happens. The Center is our therapeutic facility, where clients receive individual therapy sessions, and participate in group therapy, education sessions, and group activities and healing sessions such as yoga, art therapy, acupuncture, and more.
'At Oasis Recovery we advocate an integral model that brings balance to clients who live in an imbalanced world. An integral model is one that takes the most valuable perspectives from science, mindfulness, art, sociology/cultural anthropology, and therapeutic approaches, and incorporates these in ways that are practical and deliver results.'
Facilities With Purpose
Come breathe the fresh mountain air that surrounds our beautiful healing facilities in Asheville, North Carolina.
We invite you to take a virtual tour today.
What Would It Feel Like To Be Free?
LET US HELP YOU FIND OUT.